Spring Lake Resort Restaurant
We are open for Breakfast, Lunch & Dinner
Restaurant hours change based on the time of year:
Summer/Fall: Open Daily from May to October Thanksgiving Weekend 8AM to 8PM.

Winter: Open for Snowmobile season, call for the details.
RESTAURANT
Dining Service
If you're leaving the tent at home so that you can enjoy comfortable accommodations, then leave the can opener and camping stove there too! The Spring Lake Resort Restaurant has wonderful home-cooked cuisine at very affordable prices. Let's not forget a wonderful lake front dining patio that is perfect when the weather cooperates (and it does so frequently!)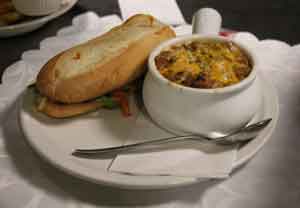 FULLY LICENSED BAR
Beer, Wine & Cocktails
"The food in the restaurant was good, they were very friendly. Every day there is a special next to the regular menu. It seems a popular place in the area because the place fills up quickly."
Would definitly recommend Spring Lake Resort when visiting Algonquin park. We loved the stay!
Virginie D
"We stayed there for three nights and enjoyed breakfast each morning. It's a truly excellent value for the money as compared to some of the other over-priced lodgings in and around Algonquin Park."
Rob, Toronto Ontario
"The owners and staff (their sons) are extremely friendly and helpful. The restaurant offers reasonably priced, good tasting food – try the perogies!."
JSN Whitby Ontario