The Snowmobile Trail
Is the 77 Muskoka Snowmobile Trail, which is one of the Algonquin Snowmobile Trail, basicly is right at our door steps! Well, I should say across the road, which makes us here at Spring Lake Resort a perfect location to stop for breakfast, lunch, or dinner. Well, that is unless you're planning on staying overnight, in which case you can then enjoy a cold beer, drink or even a good bottle of wine with your meal.
Remember, safety, first. If you're planning on drinking, you should stay overnight.
If you don't own a snowmobile and would like to venture out on the Muskoka Snowmobile Trails, here's a good place to rent a snowmobile. You can even get a snowmobile guide tour package for the whole family, conveniently located a few minutes away, right here in Dwight Ontario.
To book your stay with us here at Spring Lake Resort, give us a call, send us an email, or check availability using the online form on the home page. We'd love to have you stay with us!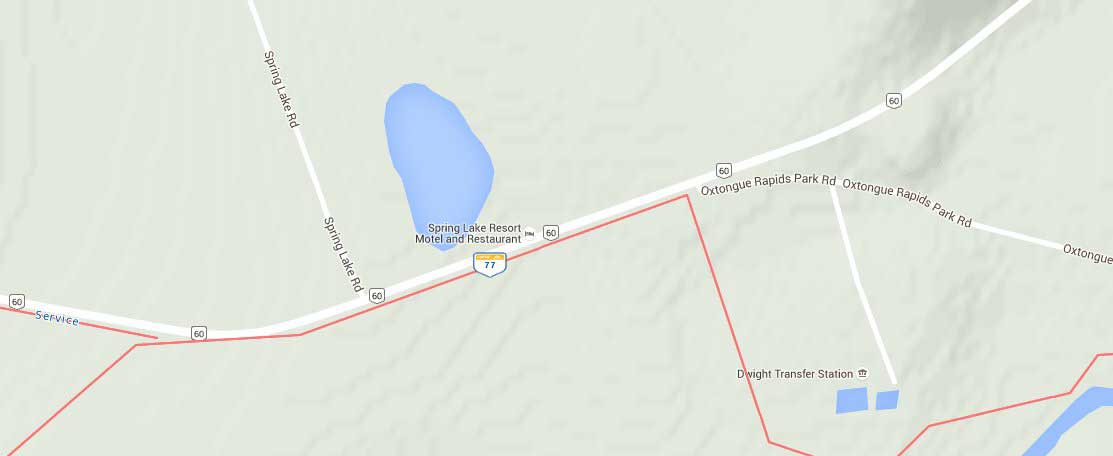 RAP tour is just the most popular tour they call Round Algonquin Park. The Algonquin snowmobile trail goes for 900 km, and it is very popular as you go to different places on your snowmobile. It's usually, a 3-4 day trip around the park.
Our guest that arrives here with their Ski-doo on the trailer will stay with us the first night, and then the next morning, leave the truck and trailer here in the parking and head out on their snowmobile tour around the park. Then, 2-3 or 4 days later depending on their plans, usually, will stay with us again for another night or two while visiting other attractions, before heading home.
We are part of OFSC, Ontario Federation of Snowmobile Clubs, and we are MSR, then part of Muskoka Snowmobile Region. We are District 7 on the OFSC MAP and the name of the club we directly belong to is Algonquin Snowmobile Club.
This is the map of the whole OFSC. Please click on the link to see the Muskoka Snowmobile trails, and you can zoom in on the small lake between Spring Lake Road and Oxtongue Rapids Road on Hwy 60 east of Dwight. We are located right by Spring Lake and the number 77 as you can see in the above map, which make us a perfect place to stop, warm up, have a meal, or stay overnight. Notice in the above map, the red line is the Ski-doo trail passing by, right across the road, from Spring Lake Resort.